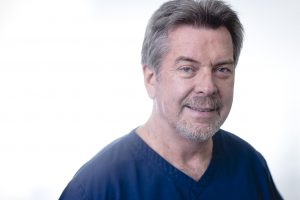 For over 30 years in Ophthalmology, Mr Wayne Crewe-Brown has helped to transform the lives of over 20,000 people in the United Kingdom, Ireland, and South Africa.
As a Consultant Ophthalmic Surgeon, specialising in Refractive and Cataract surgery, he has become one of the most experienced eye surgeons in the world, and is an international authority on Corneal Inlay procedures – treatments that are designed to help alleviate the effects of Presbyopia.
Having qualified from the University of Cape Town (1978), and then later from the University of Natal (1984), Mr Crewe-Brown led his private practice in South Africa before moving to the United Kingdom in 2001.
Since then he has worked with private refractive centres in the UK and Ireland, and holds full specialist registration with the General Medical Council of Great Britain (GMC), along with the Irish Medical Council (IMC) and the Health Professionals Council of South Africa (HPCSA).
He is also a member of the:
European Society of Cataract and Refractive Surgeons (ESCRS)
American Society of Cataract and Refractive Surgeons (ASCRS)
American Academy of Ophthalmology (AAO)
United Kingdom and Ireland Society of Cataract and Refractive Surgeons (UKISCRS)
International Society of Refractive Surgery (ISRS)
British Medical Association (BMA)
Royal Society of Medicine (RSM)
Association for Research in Vision and Ophthalmology (ARVO)
The Academy of Experts (TAE)
Expert Witness Institute (MEWI)
Mr Crewe-Brown is a Consultant Ophthalmic Surgeon specialising in Cataract and Refractive Surgery and contracted to various clinics throughout the United Kingdom.
He was confirmed in August 2011 as part-time Clinical Director/Lead Physician of the Optilase Laser and Refractive Clinic, which operates in both the Republic of Ireland and Northern Ireland.
Having been active in the laser eye surgery field for the past 24 years, he is proficient in the use of all the major excimer laser platforms.
He has performed in excess of 50,000 laser vision correction procedures (LASIK/LASEK/PRK), and 1,000 medico-legal reports to date. He moved on from Optilase in 2016 to concentrate more fully on his growing medico-legal practice.
Before moving to the United Kingdom in December 2001, he was in private Ophthalmic practice in South Africa. This was essentially general in nature, covering all Ophthalmic disciplines including Paediatric, Anterior Segment, Glaucoma, Retinal (Medical and Surgical) and Oculoplastic.
Mr Crewe-Brown is competent to diagnose and treat conditions from all of these disciplines.
His medico-legal work is a balance between criminal, injury-related and clinical negligence work dating back to 2002. He also currently undertakes a large volume of Shaken Baby Syndrome (Non-Accidental Injury) reporting cases.
In the UK, as of February 2020, he undertook NHS contract work as a part-time Consultant Ophthalmologist, working in the fields of General Ophthalmology, Medical Retina and Glaucoma. He ceased NHS work by the end of 2020.
Mr Crewe-Brown currently produces approximately 300 reports per annum, and has attended Court on 20 occasions within the past two years.