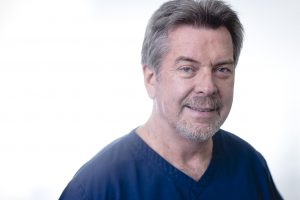 For over 20 years, Mr Wayne Crewe-Brown has helped to transform the lives of over 20,000 people in the United Kingdom, Ireland, and South Africa. As a Consultant Ophthalmic Surgeon, specialising in Refractive and Cataract surgery, he has become one of the most experienced eye surgeons in the world, and is an international authority on Corneal Inlay procedures – revolutionary treatments that help alleviate the effects of Presbyopia, commonly known as the age-related need for reading glasses.
Having qualified from the University of Cape Town (1978), and then later from the University of Natal (1984), Mr Crewe-Brown ran his private practice in South Africa before moving to the United Kingdom in 2001. Since then he has worked with private refractive centres in the UK and Ireland, and holds full specialist registration with the General Medical Council of Great Britain (GMC), along with the Irish Medical Council (IMC) and the Health Professionals Council of South Africa (HPCSA).
He is also a member of the:
European Society of Cataract and Refractive Surgeons (ESCRS)
American Society of Cataract and Refractive Surgeons (ASCRS)
American Academy of Ophthalmology (AAO)
United Kingdom and Ireland Society of Cataract and Refractive Surgeons (UKISCRS)
International Society of Refractive Surgery (ISRS)
British Medical Association (BMA)
Royal Society of Medicine (RSM)
Association for Research in Vision and Ophthalmology (ARVO)
Mr Crewe-Brown's special interests are Anterior Segment surgery, including Cataract and Refractive surgery and Corneal Transplantation. His main interest is Laser Vision Correction utilizing modern Excimer and Femtosecond lasers.
In the past three years he has become involved in the use of Corneal Inlays for the correction of Presbyopia. The inlays he currently uses are the Presbia Flexivue and the AcuFocus KAMRA inlays and he is the only surgeon internationally currently implanting both types of inlays.
In early 2013 Mr Crewe-Brown was appointed to the AcuFocus International Medical Advisory Board (MAB) and in early 2014 to the Presbia International MAB. Currently he is one of the highest volume corneal inlay surgeons in Europe.